About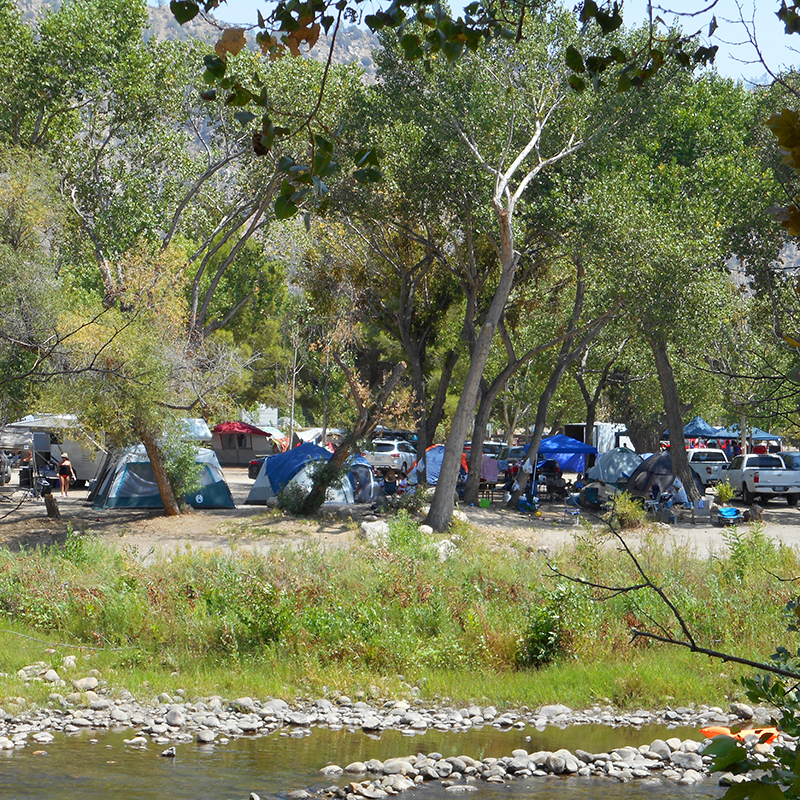 Camp on the Kern River in Kernville, California!
FRANDY IS OPEN YEAR ROUND FOR YOUR CAMPING ENJOYMENT!
Nestled along the banks of the Kern River, among oak woodlands and steep hillsides, Frandy is a complete campground welcoming families and groups alike in Kernville, California to enjoy some California High Desert camping. The atmosphere is truly relaxing and family-friendly, making the campground an ideal place to stay during your Kern River camping trip. There is plenty of room for tents, RVs, buses, trailers, and campers with pull-thru sites and clean facilities. Whether you come to kayak, explore the Sequoia National Forest, or just relax among the desert landscape, Frandy is the finest Kern River Valley campground for your stay.
Frandy is located directly on the beautiful Kern River, making all kinds of river activities easily accessible to guests. The Kern River is an angler's dream, with an abundance of golden, rainbow, and brown trout, and crappie. You can fish right on Frandy's riverbank! We are a favorite spot for the Fish Hatchery to plant trout. Guests of the Kern River Valley campground can also enjoy canoeing, kayaking, swimming, and more! Rafting companies also offer stand up paddle boarding. The campground offers pull out access for rafting and has 3 rafting companies located onsite. The river is just steps away from your campsite. Enjoy watching wildlife or studying nature; you can even bring your camera and snap some breathtaking photos. Other activities at the campground include picnicking, playing outdoor games, or just relaxing beneath the oak trees. If you're looking to escape the hectic city life, or you just enjoy being in the outdoors, Frandy is the ideal place for your California High Desert camping experience.
If you need to get out and about and see what else Kern River camping has to offer, Frandy is in a great location for enjoying the surrounding area. We have the Kern Valley Brewery, the Saloon and Sportsman, which can offer karaoke, live music, or just the general jukebox. The Kern River Valley campground is just a short walk from the western-style downtown Kernville, where visitors can enjoy antique shops, the Kern Valley Museum, a Silver City Ghost Town (located in Bodfish), and unique dining opportunities. The Kern River Valley campground is also in close proximity to a variety of outdoor recreation, including backpacking, wind surfing, mountain biking, and more. Frandy is within easy driving distance of Lake Isabella, the Sequoia National Forest, and other natural areas where visitors can enjoy what makes a California High Desert camping trip so memorable. During the summer season on Saturdays we offer a "Family Outdoor Movie Night", on Saturday mornings "Free Wagon Rides" and free coffee in the mornings.
Once you arrive at the peaceful campground, you'll discover that is the best in Kern River camping. You'll find the best of all worlds with desert landscapes, giant Sequoias, mountains, a roaring river, and beautiful wildlife all around the campground.
Your hosts at Frandy look forward to your stay!